Several years ago, our CEO James Swanston started meeting with members of the Procore team up in Carpinteria, CA. They realized immediately that there was potential for a mutually beneficial product integration and instantly sought to define what that would be. The result wound up being our current integrations into Procore's Daily Log and also Submittals. Eliminating double work between the platforms is a key value driver for GCs that understand saving every minute possible provides value, and leaves more time to put actual work in place. Instead of recreating all of the delivery data in the Daily Log, all that info automatically ports over from Voyage Control. You also get all the photos, screenshots, and other attachments (invoices, POs, etc.) that are attached to deliveries in Voyage Control. Menial tasks going away, such as data double entry, helps keep employees happy and focused on their more important work. Long story short, site teams love this integration as it saves them hours every week.
We're very interested in hearing what feedback everyone has about what part of Procore Voyage Control should integrate with next! Please email us at info@voyagecontrol.com and tell us if you have any ideas on what would bring even more value to our Procore integration.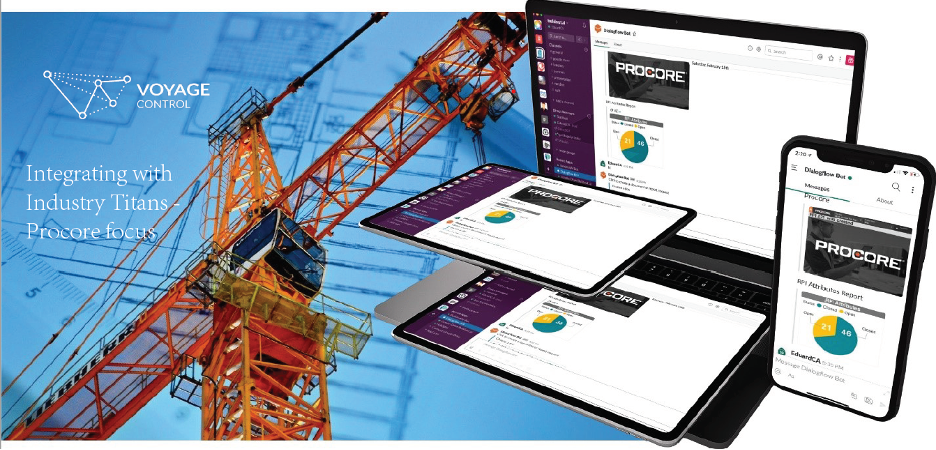 For those who are interested, here's a lot more info on Procore and how they help GCs:
Project management is a key aspect of every project. How well a project is managed determines the quality of the outcome. A well-delivered project is one that meets the client's expectations, one that is delivered on time and that is within the budget. This can be a lot of work. Many applications have been designed to assist project managers to effectively manage projects.
An example of a few applications created to facilitate easier project delivery include Procore and Voyage Control. Procore is a software or application that assists in construction Project Management. Procore allows its users to access information that may be crucial to the successful implementation of the project. The team can get access to information that helps them to gain perspective and competitive efficiencies. The data available also can be useful for management to make data-driven decisions by giving them different insights. The accessibility to data and information also helps mitigate the potential risks that may occur during project implementation. Historical information that is accessed can help eliminate surprise costs or any potential delays.
Procore also offers centralized communication. It enables team members to communicate even between different sites, with the information being constantly updated. This means that everyone gets up-to-date information. By so doing, it eliminates the chances of double data entry. Procore helps the team bring the office to the field. The team members do not have to be in the office to access such information. Procore offers a dashboard that allows one to view all the various but vital aspects of a project. The analytics component of the application enables one to analyze data about a project. This helps in improving decision making especially for sites that are margin-critical. It is also possible to tell the root cause of issues such as delays and overages.
Procore also has support staff who are always ready to respond to any user's queries. They have many support staff ready to assist when problems arise. There are also different channels through which clients can voice their queries. They can be found via email, phone, and live chat. This quickens the implementation process as problems are promptly solved. Procore is also purposefully built for the field. It helps the project team to comply with safety regulations while providing quality specifications. The fact that information is centralized means that the management knows what is going on in the field at all times. This helps them gain insight into the root cause of safety or quality issues or behaviors that may be risky.
Of importance too is that Procore is instrumental in managing project financials. It enables easier collection of invoices that are later reviewed and approved. This helps avoid delays in the project. The team members are also paid faster. It helps in the management of the budget as it can detect activities that are associated with some critical costs.
Voyage control on the other hand is a logistics management application. It helps solve logistics issues in construction, ports, or events. On construction sites, Voyage Control is the software used to manage all deliveries. It keeps track of the date and time deliveries are to be made and alerts the team in case they are not made. In this way, it reduces delays associated with the lack of materials. It also keeps track of the resources on-site and keeps records of material inventory.
Voyage Control and Procore are both designed to help make work easier. Procore integrates the use of analytics together with the accessibility of big data to help manage projects. Voyage control builds on scheduling and previous input by the operators to help manage logistics.
Written by: Ruixin Wang / May 21, 2021